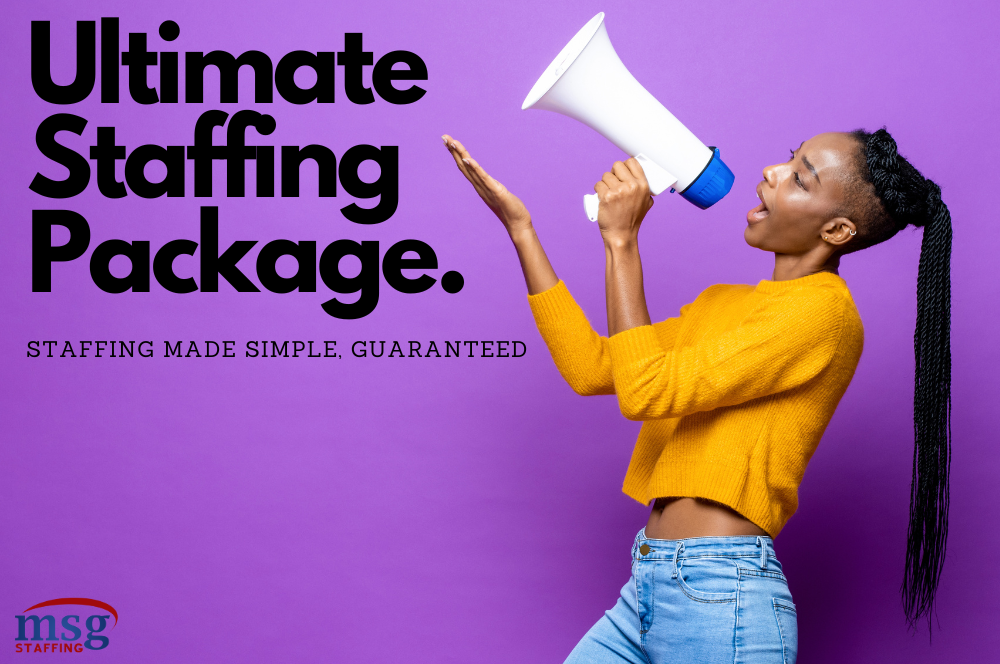 At MSG Staffing, we understand the unique staffing challenges faced by healthcare facilities today. To address these obstacles head-on, we are thrilled to unveil our revolutionary all-in-one solution: The Ultimate Healthcare Staffing Package. As the only staffing agency offering this comprehensive package, we are here to transform your healthcare workforce and propel your facility to unparalleled success. Say goodbye to staffing shortages and turnover as you embark on a journey of excellence. Take the first step towards a brighter future by completing our quick form today.
Unprecedented Challenges, Tailored Solutions:
The healthcare industry is encountering unprecedented staffing hurdles, leaving facilities struggling to find qualified professionals who align with their specific needs. Our Ultimate Staffing Package is designed to overcome these challenges and deliver tailored solutions. With a focus on reducing turnover rates and enhancing the quality of care, we go above and beyond in ensuring your facility's success.
The All-In-One Package:
The Ultimate Staffing Package is a game-changer, offering a suite of powerful solutions unlike any other staffing agency.
1.TalentFit:
Experience a customized staffing plan tailored precisely to your facility's requirements, ensuring the perfect fit for every role.
2.FlexHire:
Choose from a range of staffing options that adapt to your changing needs, providing the flexibility required in today's dynamic healthcare environment.
3.Diamond Standard Screening:
Our rigorous screening process guarantees that only qualified candidates who meet your high standards become part of your exceptional team.
4.Personal Staffing Concierge:
Benefit from the support and guidance of a dedicated account manager who understands your unique staffing needs, offering ongoing assistance and ensuring a seamless experience.
The Talent Launch Program:
Our Talent Launch program sets your team up for long-term success through innovative onboarding, training, and mentorship.
1.Tailored Onboarding:
We customize our onboarding program to ensure your new hires are equipped to hit the ground running.
2.Comprehensive Training & Mentorship:
We offer comprehensive training and mentorship programs to help your new hires reach their full potential.
3.Patient-centered Culture:
We foster a patient-centered culture that inspires your employees to connect with their work and make a positive impact.
The HappyHires Guarantee:
Employee satisfaction is key to long-term retention, and our HappyHires initiative is dedicated to ensuring just that.
1.Competitive Salaries:
We offer competitive salaries to attract top talent and reward exceptional performance.
2.Employee Recognition:
We recognize and reward employees who exceed expectations and go above and beyond.
3.Continuous Development:
We provide ongoing opportunities for learning and development, empowering your staff to grow and advance.
Superior Value, No Strings Attached:
With the Ultimate Staffing Package, you gain access to superior value without the burden of long-term contracts.
1.Flexible Contracts:
Enjoy flexibility with a no-obligation contract and the option to cancel if needed.
2.Competitive Pricing:
Our pricing is transparent and competitive, with no hidden fees.
3.Exclusive Bonuses:
By signing up for the Ultimate Staffing Package, you unlock exclusive bonuses that enhance your experience and value.
Lasting Partnership: Your Trusted Resource for Future Staffing Needs:
Our commitment extends beyond immediate solutions. We aim to build a lasting partnership with your facility, becoming your trusted resource for future staffing needs. Our team of experts is here to understand your long-term goals and provide ongoing support, ensuring a sustainable and thriving workforce with the Ultimate Healthcare Staffing Package.
Join Us Today: Say Goodbye to Staffing Shortages and Turnover:
Don't let staffing challenges hinder your facility's success. Sign up for the Ultimate Healthcare Staffing Package from MSG Staffing today and unlock a world of possibilities. Our team of experts is ready to collaborate with you, ensuring you have the right staff in place when you need them
Categories
Subscribe to Newsletter
You agree to receive email communication from us by submitting this form and understand that your contact information will be stored with us.