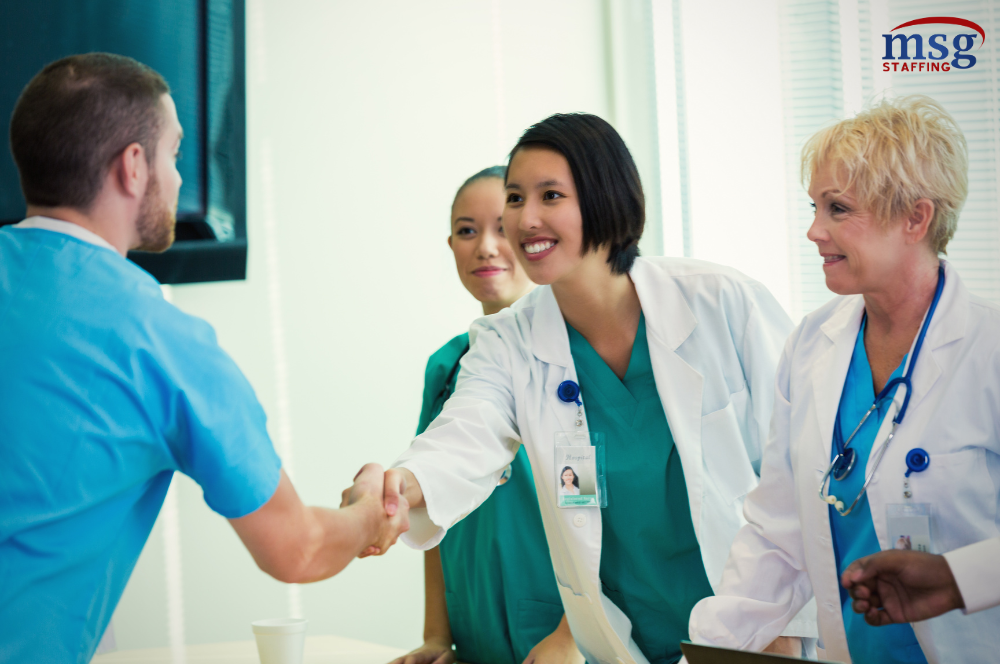 Staffing with the Perfect Match
At MSG Staffing, we understand the immense pressure and challenges healthcare facilities face when it comes to finding the right employees. Each facility has its own unique requirements, and the search for qualified and compatible staff can often be overwhelming. That's where we come in. We are the staffing agency that healthcare facilities turn to when they need their next hiring to be a resounding success. Let us help you with your staffing with the perfect match.
Tailored Solutions for Your Needs:
We pride ourselves on our ability to work closely with healthcare facilities to identify their specific staffing needs. We recognize that every facility is different, and cookie-cutter solutions simply won't cut it. Our team of dedicated experts takes the time to understand your unique requirements, ensuring that we find the best-fit employees who align perfectly with your organization's goals and values.
Going Above and Beyond:
At MSG Staffing, we are committed to going the extra mile to deliver exceptional results. We understand the critical role that quality staff plays in providing superior patient care and maintaining smooth operations. That's why we are prepared to do whatever it takes to find you a winning team. From extensive candidate screening and interviews to comprehensive background checks and skills assessments, we leave no stone unturned in our search for the ideal candidates.
Best Fit Guarantee:
We are confident in our ability to find the perfect match for your healthcare facility. That's why we offer a Best Fit Guarantee. If, for any reason, you find that a staff member we have placed does not meet your expectations during the first shift, we will promptly provide a replacement at no additional cost and also that shift the original person worked would be of no charge. We are fully committed to your satisfaction and the success of your team.
Personalized Support:
We understand that staffing needs can change, and challenges can arise unexpectedly. That's why we provide you with a dedicated account manager who will be your go-to resource for all your staffing needs. Whether you have questions, require additional support, or need to discuss any concerns, your account manager will be there to provide prompt and personalized assistance. We believe in building strong and lasting partnerships with our clients, and your success is our top priority.
Staffing with the Perfect Match
Finally, trust MSG Staffing as your dedicated healthcare staffing partner. We offer tailored solutions, excellence, a Best Fit Guarantee, and personalized support. Let us ease your staffing challenges and build a winning team for your organization's success. Contact us today and experience the difference of working with a trusted healthcare staffing partner. Staffing with the perfect match just got easier.
Categories
Subscribe to Newsletter
You agree to receive email communication from us by submitting this form and understand that your contact information will be stored with us.