Shift Makers
Unlock Rewards at Every Tier and Sail Away with a Friend!
CALLING ALL RNs
Unlock Valuable Rewards Designed Just for You
Elevate Your Rewards as You Refer Nurses
Join Our Exclusive 3-Tier Nurses Referral Program
Every tier brings with it new bonuses and perks that can only be provided with this program.
Embark on an Unforgettable Adventure
Earn a Cruise for You and a Friend!
Become one of our Visionaries and you will receive the ultimate adventure for you and a friend!
More information to come on 2024 NurseCon Cruises. This includes cruise tickets and airfare for you and a friend.
This is an experience of a lifetime and you won't want to miss this opportunity!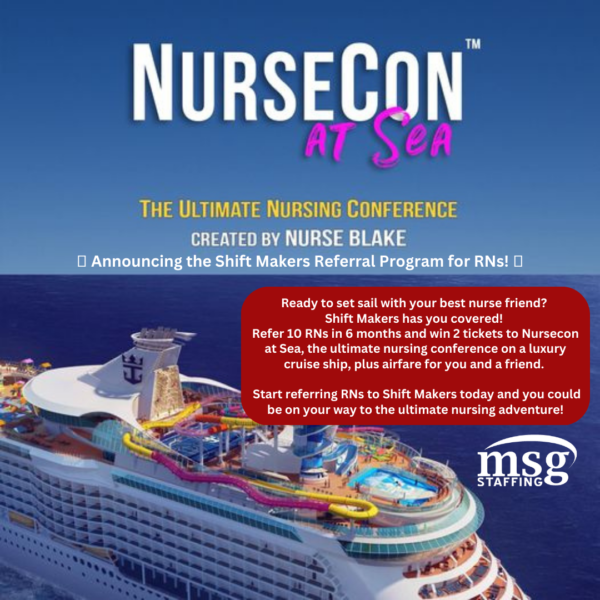 Get Started Today!
Calling all RNs seeking to make a meaningful impact while reaping incredible rewards! Introducing our exhilarating Nurses Referral Program. Spark positive change and earn big – refer RN friends and colleagues to earn a generous $750 bonus for each successful referral. Unlock up to 25 referrals per year, and that's just the beginning!
The excitement grows as your referrals do. Earn more perks as you make more referrals – from complimentary shifts to an unforgettable NurseCon cruise for you and a companion. Seize this thrilling chance now – ignite your referrals today!
Ready to dive in? Embark on your Shift Makers journey by completing this simple form. Every new RN referral counts, so return here each time you want to refer a colleague to MSG Staffing. Let's elevate together!
Only The Best for The Best!