Private Duty Nursing for Advanced In-Home Care
The Care that's Always There
Discover the next level of home care for your loved ones with MSG Staffing's CareCompanion Private Duty Nursing services. Our dedicated team of highly trained and certified nurses provides one-on-one medical care tailored to your family member's advanced needs. Unlike traditional in-home care, our skilled nurses offer specialized assistance right in the comfort and safety of your home. From medication management to wound care and general health assessments, our goal is to enhance the health and happiness of your loved ones. Experience the personalized care your family deserves with our CareCompanions.
Types of Services We Offer
Personal Care Services
Companionship
Dressing/Grooming
Mobility Assistance
Medication Setup & Reminders
Oral Hygiene
Fluid Intake
Feeding Assistance
Errands (Shopping/Transportation)
In-Home Care Services
Meal Prep & Clean Up
Prep Future Meals
Light Housekeeping
Make/Change Beds
Laundry & Ironing
Plant Care
Take Out Garbage
Much More!
Companion Services
Home
Hospitals
Independent Living
Assisted Living
Skilled Facilities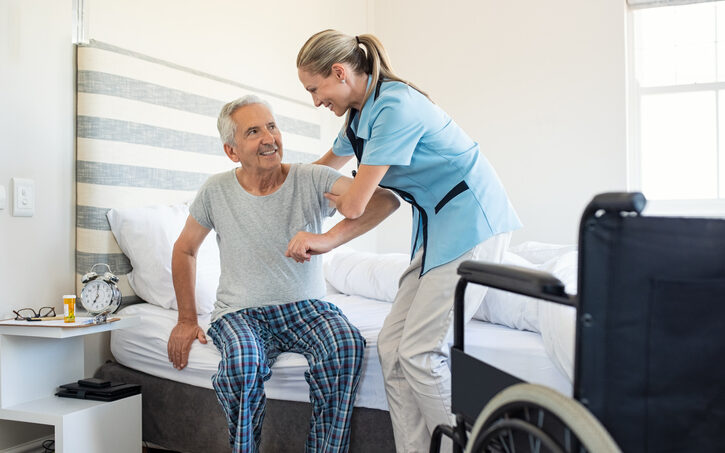 The Right Care
Our CareCompanions are dedicated to delivering top-tier service while building a meaningful connection with your loved one. We approach any potential challenges with empathy and effectiveness, always prioritizing the preservation of your loved one's dignity.

Positioned Roles
Local and Travel RNs/LPNs, CNAs, Rehab Counselors, Medical Assistants, Pharmacists, Social Workers, Advanced Practice Providers, Physical Therapists, Medical Lab Professionals… we help them all.
Tailored Care for Each Stage of Life.
Staffing Options
Empower

Care

Excellence: Your Workforce Engine
Your Loved Ones Deserve the Best
For those seeking assistance while cherishing the independence of remaining in their own homes, MSG Staffing is here to assist you. Our skilled and compassionate staff is dedicated to ensuring your maximum comfort and independence, offering a range of services tailored to your unique needs. Private Duty Care is designed to provide personalized care, going beyond traditional home health nursing services.
Our process begins with a complimentary consultation involving you and your involved family members. This assessment aims to evaluate your loved one's needs, safety, and desired outcomes, enabling us to tailor our services accordingly. Whether you require short-term assistance with bathing and grooming or round-the-clock care, our Private Support Care team is well-equipped to provide comprehensive care. We are here for whatever you may need.
Real Voices, Real Impact:
Hear from Our Top Facilities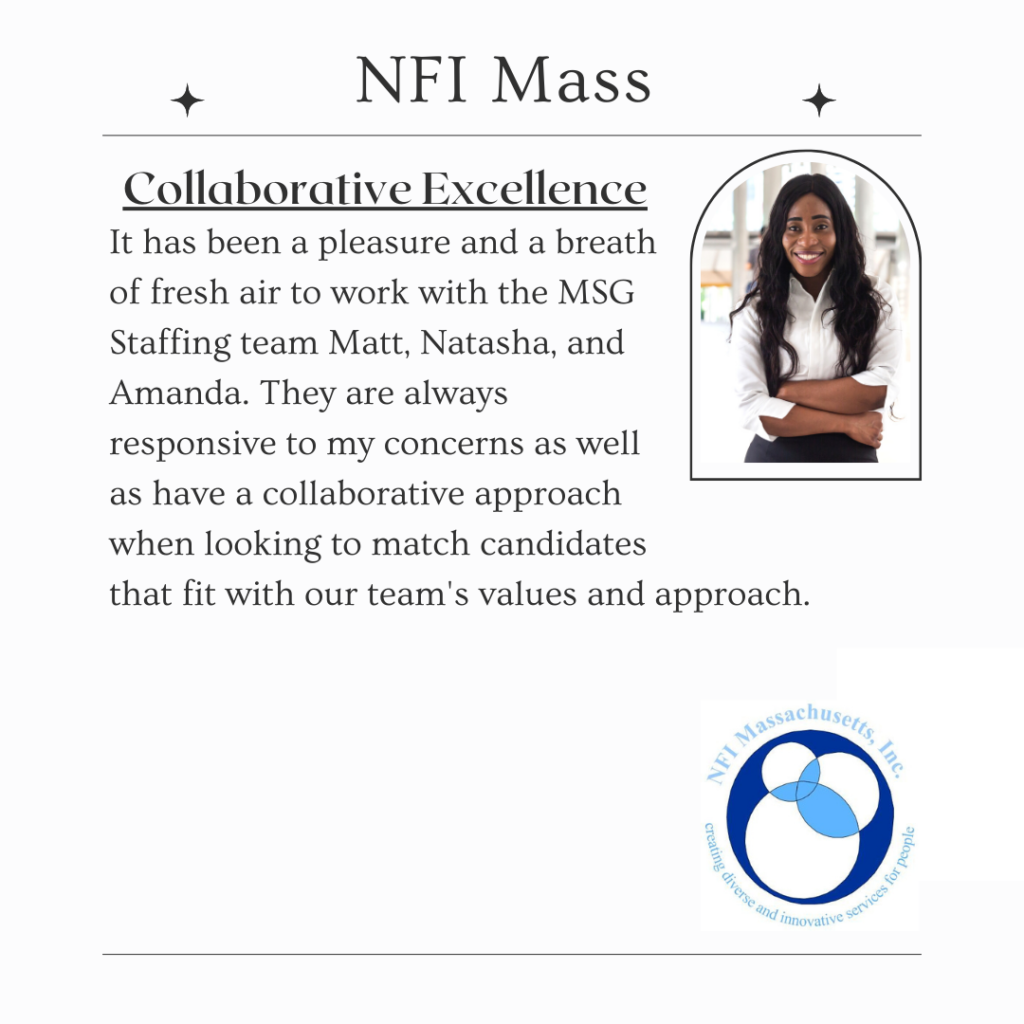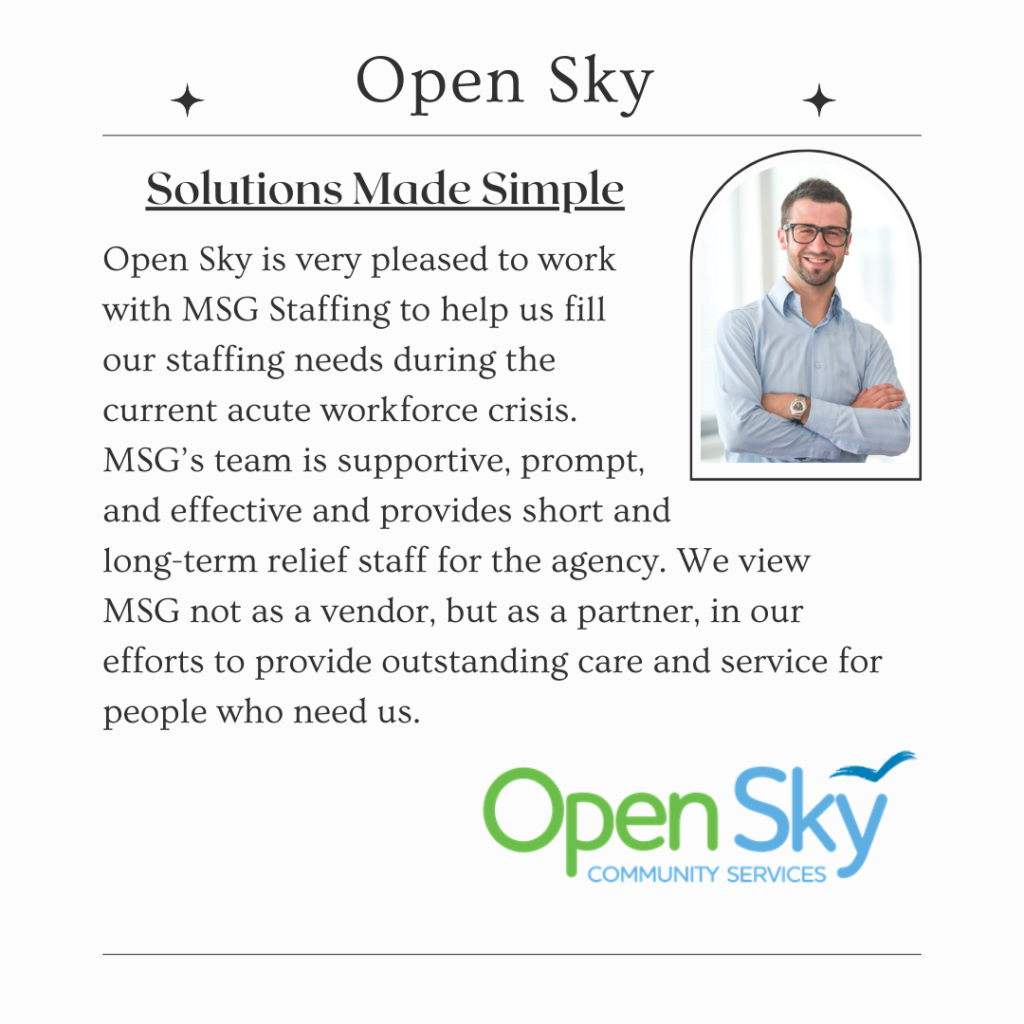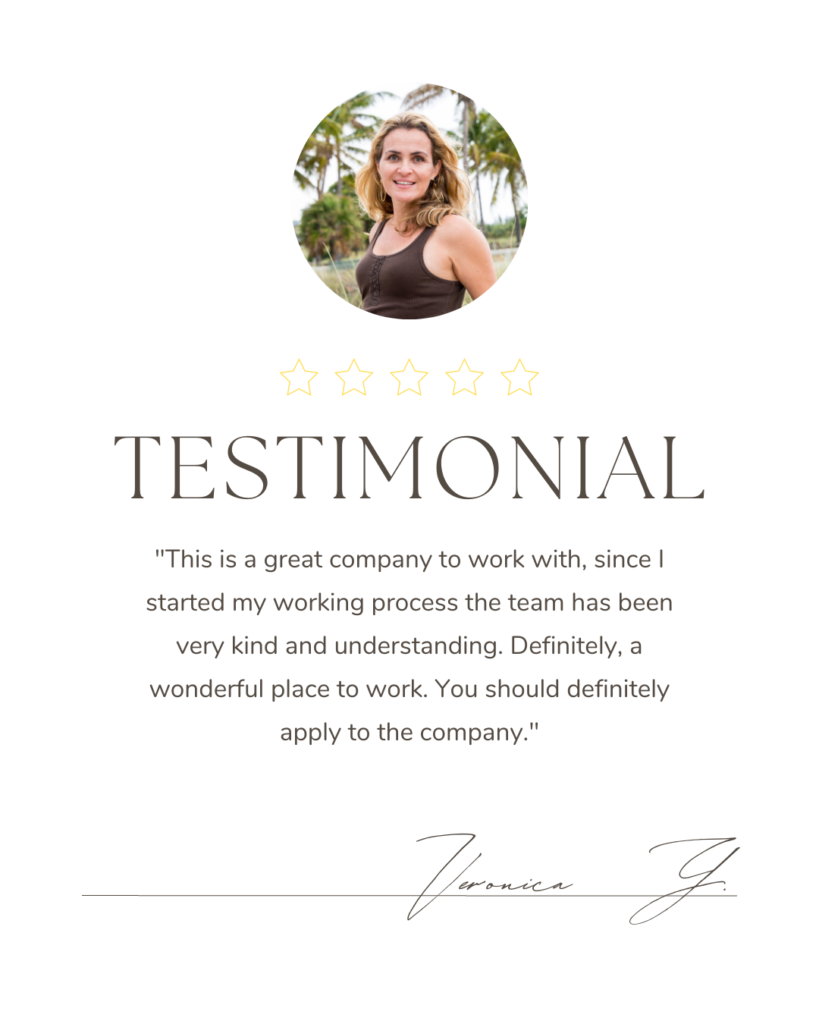 Your Path to Personalized Private Duty Nursing Care
Step 1
Contact Us for a Consultation
Reach out to MSG Staffing to schedule a consultation. During this initial discussion, our team will listen to your unique requirements and assess the specific needs of your loved one. We'll work closely with you to understand your goals and objectives for their care.
Step 2
Personalized Care Plan
Based on the information gathered during the consultation, our experienced staff will create a personalized care plan tailored to your loved one's individual needs and preferences. This plan will outline the scope of care, the level of support required, and the schedule that best suits your family's situation.
Step 3
Expert Private Duty Nursing
Once the care plan is in place and approved by you, our skilled private duty nursing team will begin providing the necessary care and support. Our professionals are trained and certified to deliver a wide range of advanced medical tasks and specialized care, ensuring the well-being and comfort of your loved one.
FAQ
Is Private Duty Nursing available on a short-term basis?

Yes, we offer flexible options, whether you need care for just an hour to assist with specific tasks or round-the-clock care, seven days a week.
What are the qualifications of your Private Duty Nurses?

Our Private Duty Nurses are highly trained and certified professionals. They include both Licensed Practical Nurses (LPNs) and Registered Nurses (RNs). We also offer other disciplines depending on what you are needing.
Is Private Duty Nursing covered by insurance?

Coverage can vary depending on your insurance provider and plan. We recommend reaching out to your insurance company to discuss coverage options.
Can Private Duty Nursing be provided in nursing homes or assisted living facilities?

Yes, Private Duty Nursing services can be offered in various settings, including nursing homes and assisted living facilities, to ensure your loved one receives the care they need.
Are Private Duty Nursing services available on holidays and weekends?

Yes, our Private Duty Nursing services are available seven days a week, including holidays, to provide continuous care and support.
Need a new job? We can help.