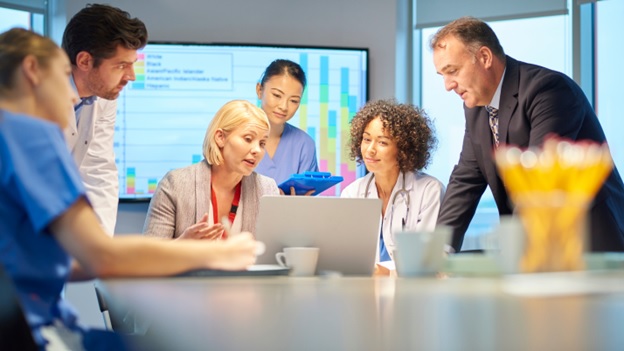 Searching for the right employees has always been hard, especially when it comes to jobs in healthcare. When an employee has to search for a new hire on their own, this limits them quiet a bit. For one, they can only search and work on this as long as their schedule lets them. Most of the time the people who are doing the staff hiring is also in charge of other areas of the company as well. They can't spend all their time trying to find the right person for the job, and it gets especially harder when you are looking for multiple positions to be filled at the same time. Also, they are really limited on where they can search. Usually looking at a more local approach. It's a very time consuming and frustrating situation that could take a long time in order to find someone that fits the bill. However, when you partner with a medical staffing agency like MSG Staffing, all of this becomes easier as you now have an award-winning team to help you. There are many benefits that come with working alongside a MSG Staffing when hiring in the field of healthcare, and we're going to share a few with you today.
More Candidates
When working with MSG Staffing, we do the hard work for you and that includes finding the right people for the job. We have a large amount of healthcare professionals that routinely work with us that we can quickly look at for your specific needs and see if any of them would be a good fit. We can also search multiple platforms for possible new candidates looking for a change. You wouldn't have to weed out the underqualified workers as we do that for you, and we come to you with choices that would be the best-fitting for the position you are wanting to fill. If your facility is looking for someone with particular experience or a part-time worker, we can easily search through our database along with others at our disposal to find the person you've been looking for.
Getting Your Time Back
Gone will be the days that you spend hours looking into resumes that don't make sense or searching all the job boards when you work with MSG Staffing. Sourcing, screening, and interviewing candidates can require more time and energy than you and your employees have to provide. We do the work for you so you can get back to all your other daily responsibilities. Along with that, we are trained to look for the right information and ask the right questions in order to figure out if that particular person will be a good match for you and your facility needs. What would take you multiple contacts to figure out might take us one phone call. We can get you what you're looking for and we can get it for you fast.
Prevent Sudden Issues
Unfilled positions and sudden staff shortages can have detrimental effects on a healthcare organization and leave the employees stressed and possibly wanting to look for work elsewhere. With our large database of candidates, we can help fill needs fast and efficiently before it starts to become a problem for your organization. Instead of starting at the beginning of the hiring process like your company would need to do when something like this arises, we can immediately look at the people we have available and send you the ones that would fit your needs best. We can really help avoid major issues within your organization.
At the end of the day, having a staffing agency in your corner will always be a benefit for you and your company. I would suggest working with a staffing agency before a major issue happens with your staffing. That way we will already have a plan of attack set in place for your facility and when the time comes, we know what you're looking for and we can help mitigate that worry by providing you the right people for the job. Don't wait for your administration to break down under the stress of it all, take advantage of MSG Staffing vast knowledge of healthcare hiring today.
Categories
Subscribe to Newsletter
You agree to receive email communication from us by submitting this form and understand that your contact information will be stored with us.