Empower Your Hospital's Success with Expert Medical Staffing Solutions
Facing Staffing Struggles? Let Us Lead the Way
Are staffing shortages causing operational disruptions, patient dissatisfaction, and staff burnout? Your hospital's journey to success faces hurdles that can impact patient care and employee morale. But worry not! Our expert team is ready to step in and guide you through these challenges.
Uncover the True Value of Partnering with Us
Seamless Operations
Ensure efficient hospital operations with a fully staffed and skilled medical team.
Enhanced Patient Care
Deliver exceptional patient experiences by having the right professionals in place.
Reduced Burnout
Support your staff's well-being with appropriate staffing, reducing burnout risks.

Positioned Roles
Local and Travel RNs/LPNs, CNAs, Rehab Counselors, Medical Assistants, Pharmacists, Social Workers, Advanced Practice Providers, Physical Therapists, Medical Lab Professionals… we help them all.
Your Success, Our Priority.
Staffing Options
Empower

Care

Excellence: Your Workforce Engine
We Understand Your Journey
Just like you, we're committed to healthcare excellence. We've faced the challenges you face, and we know the path to success. Trust us as your guiding partner, and together, we'll ensure your hospital's triumph.
Real Voices, Real Impact:
Hear from Our Top Facilities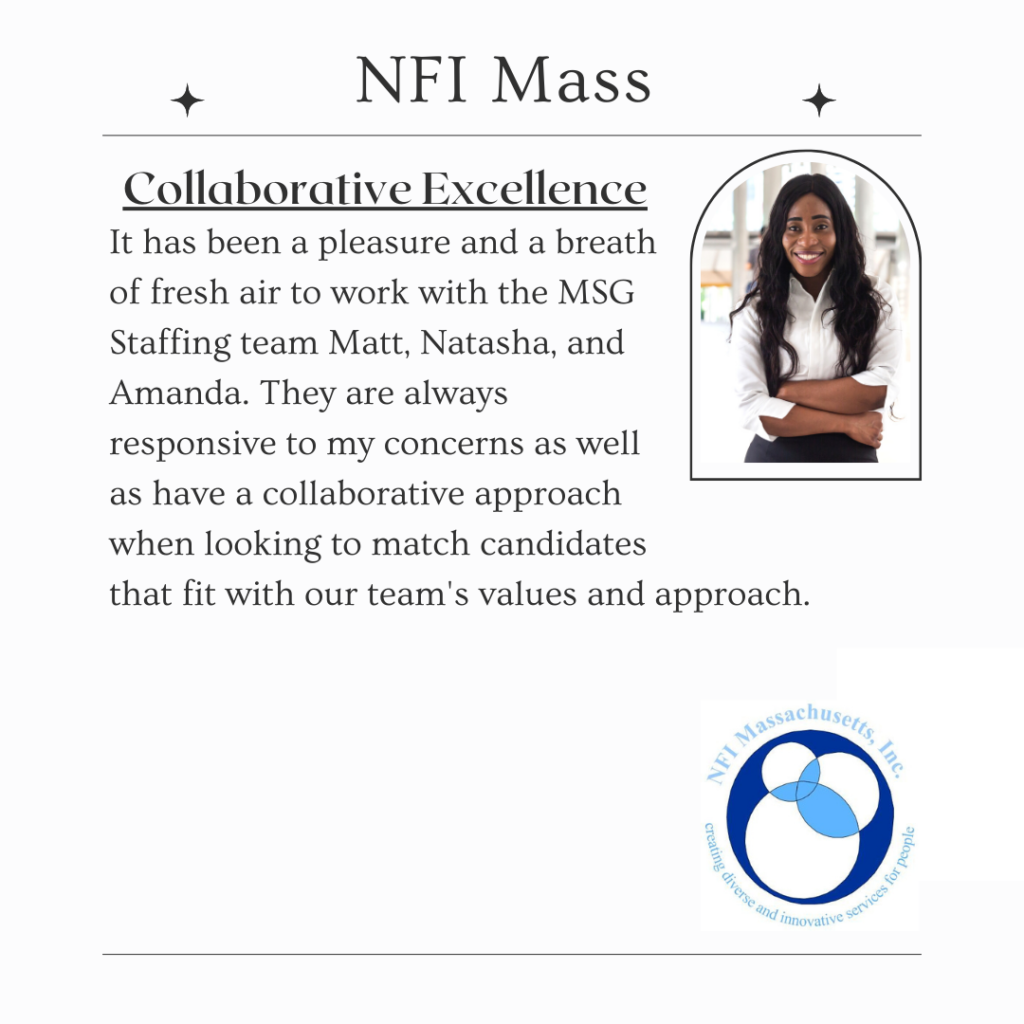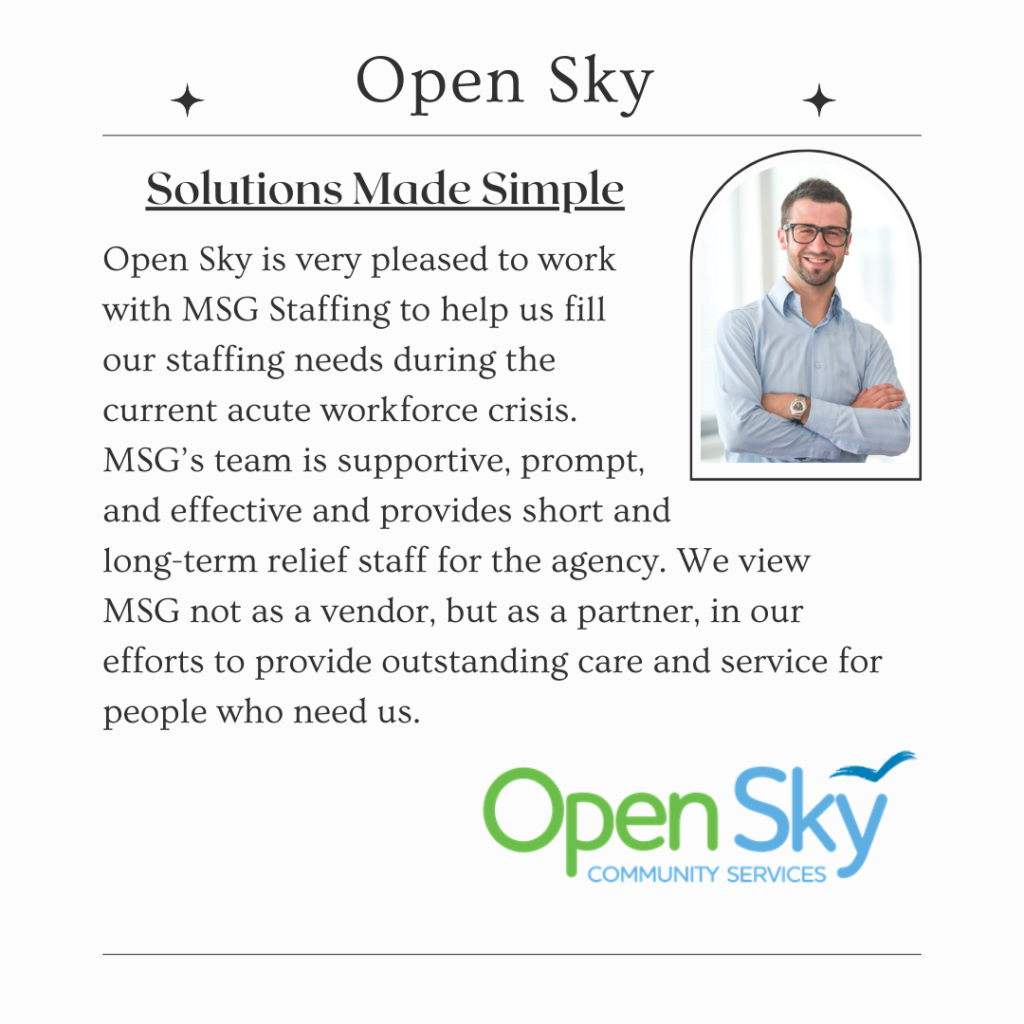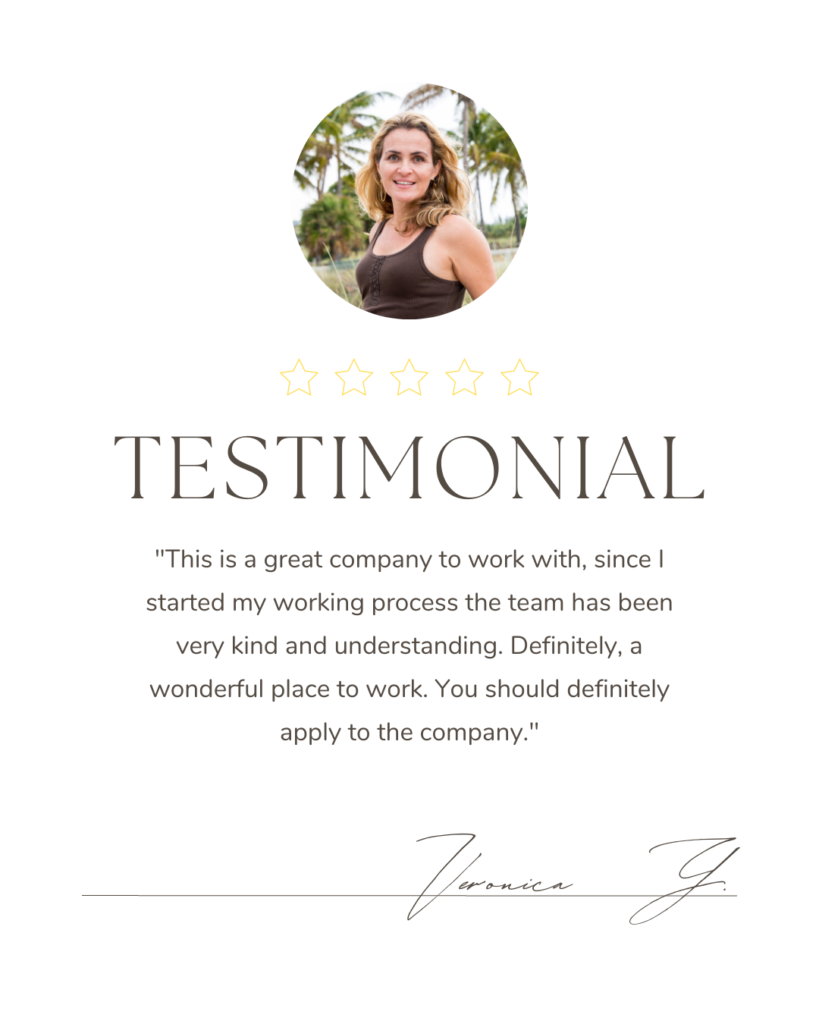 Three Easy Steps to Elevate Your Hospital's Staffing
Step 1
Fill Out Our Quick Staff Request Form
Experience a hassle-free start by filling out our streamlined staff request form. It takes just minutes to provide us with your requirements, and we'll promptly begin matching you with top-tier professionals.
Step 2
Consult with Our Expert Account Management Team
Our dedicated account management team is here to collaborate with you. We'll discuss your current and future staffing needs to create a tailored solution that aligns perfectly with your goals. Expect seamless communication and expert guidance every step of the way.
Step 3
Interview and Welcome Your New Team Members
We understand that time is of the essence. That's why we offer a fast turnaround time for interviews and placements. Once you've found the perfect candidates, you can quickly accept them and welcome them to your team.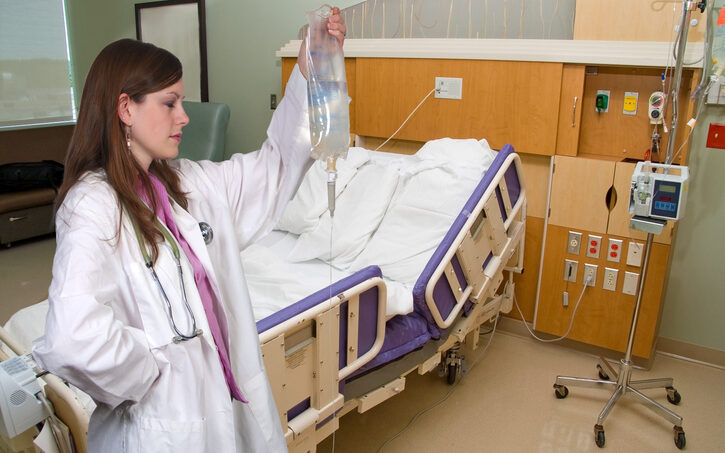 FAQ
How can MG Staffing help our hospital find the right medical professionals for our specific needs?

Our agency specializes in healthcare staffing, and we have a vast network of qualified professionals across various specialties. We work closely with your hospital to understand your unique requirements, ensuring that we match you with professionals who meet your specific needs, whether it's for a specialized department or general healthcare positions.
What is the typical timeframe for your agency to provide qualified staff for our hospital?

We understand that hospitals often require staff promptly. Our agency has a streamlined recruitment process, and we can often provide qualified candidates within a relatively short timeframe, depending on the specific requirements and the availability of candidates.
Can you assist with temporary staffing for seasonal or peak demand periods in our hospital?

Yes, we offer flexible staffing solutions, including temporary and contract placements. Whether you need additional staff during flu season or to cover staff vacations, we can help you maintain consistent levels of care and support during peak demand periods.
What measures does your agency take to ensure the cultural fit of the medical professionals placed in our hospital?

Cultural fit is crucial for a harmonious work environment. We carefully assess candidates not only for their qualifications but also for their compatibility with your hospital's culture and values. We aim to provide professionals who seamlessly integrate into your existing team.
Can your agency provide specialized medical professionals for unique departments or specialties within our hospital, such as cardiology or radiology?

Yes, we have a wide network of healthcare professionals with diverse specialties. We can work closely with your hospital to identify your specific departmental needs and source specialized medical professionals who have the expertise and experience required for those roles.
Need a new job? We can help.