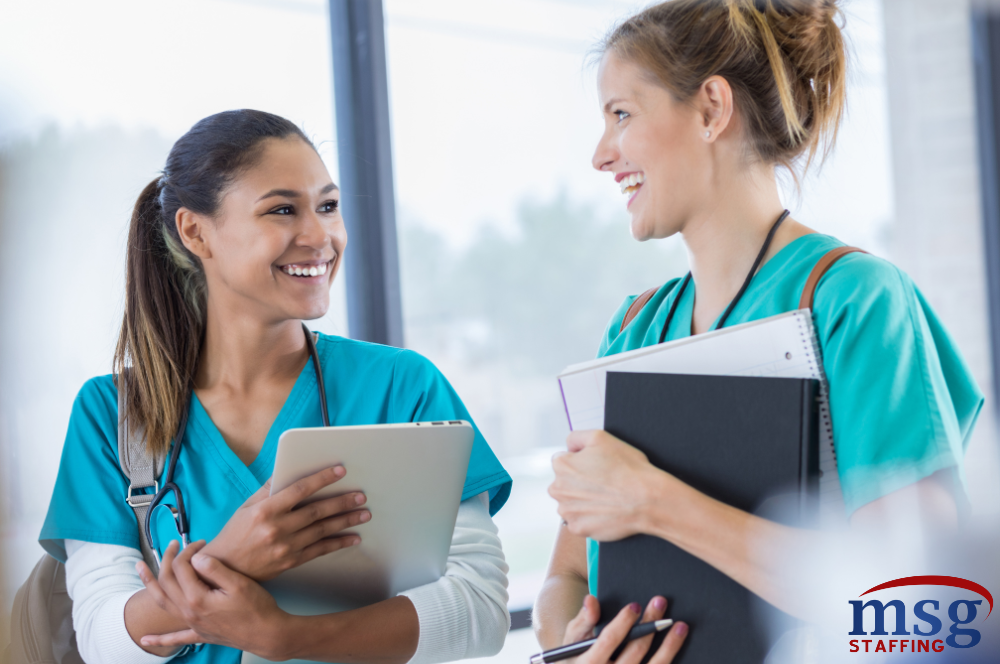 Referring people is indispensable in the healthcare world, particularly in the realm of job opportunities. In today's fiercely competitive job market, securing top talent can be challenging, and recommendations from trusted sources can be the key to landing a sought-after position. Think of referrals as your unique superpower, which can drive positive change while benefiting both your career and the healthcare industry.
Refer Into Us
At MSG Staffing, we wholeheartedly acknowledge the importance of referrals and have crafted a robust referral program that rewards our employees for their contributions to sourcing top healthcare talent. We currently operate two distinct referral programs, each offering a range of enticing benefits. This is due to us wanting the most out of the healthcare job referrals for you and your friends.
One is our time-tested referral program, accessible to all MSG Staffing employees, and it provides a host of rewards for those who successfully refer candidates.
We also offer a novel referral program known as Shift Makers, exclusive to Registered Nurses, which allows them to earn even more incentives for referring qualified candidates to MSG Staffing. This program features multiple tiers, each with its own set of perks and rewards, including coveted tickets to the NurseCon Cruise.
Both programs are incredibly straightforward – just refer a friend or colleague, and if they get hired, you'll receive the associated rewards and benefits. It's that simple, and you can easily submit referrals through our website.
Benefits for All
But what are the benefits of referring individuals to MSG Staffing? First and foremost, you contribute to delivering top-quality patient care by recommending exceptional healthcare professionals to fill critical roles. However, there are also personal advantages to consider. Referring successful candidates to MSG Staffing can lead to additional income through our referral program and broaden your professional network.
Furthermore, referrals can help you establish yourself as a trusted source of healthcare talent. This reputation can open the doors to future job opportunities, not only for you but also for the individuals you refer. If you know someone who would be a valuable addition to our healthcare team, we strongly encourage you to refer them to MSG Staffing. With our comprehensive healthcare job referrals program and Shift Makers initiative, it's a mutually beneficial situation for everyone involved. Don't wait – start referring today!
Categories
Subscribe to Newsletter
You agree to receive email communication from us by submitting this form and understand that your contact information will be stored with us.