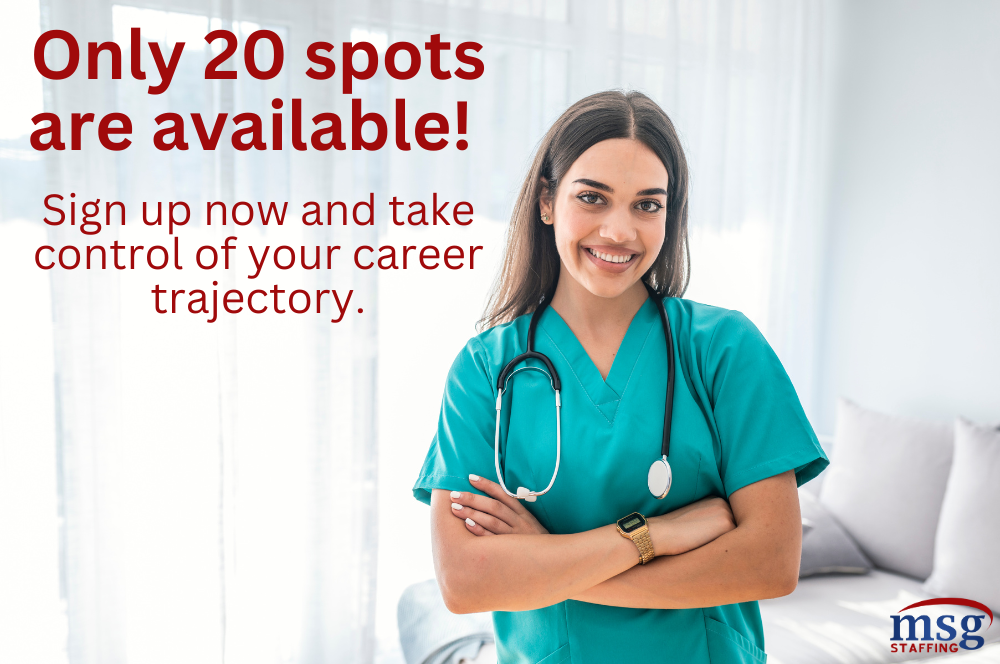 Are you weary of the never-ending job hunt, feeling like your nursing career has hit a roadblock? Your search ends here with MSG Staffing's groundbreaking all-inclusive RN staffing solution! From your initial application to successful negotiations and beyond, we're here for you.
We've crafted our all-inclusive RN staffing package to address the challenges and frustrations nurses face when seeking new employment. We understand the stress and time investment in the job search process. That's why our unique approach aims to alleviate these concerns first. Furthermore, our new program eliminates the stress and inconvenience from this process. Let's delve into how we're setting ourselves apart from other staffing agencies:
Tailored Job Submission and Handling:
We understand that every nurse has different needs and preferences when it comes to finding the perfect job. That's why we provide personalized job submission and handling services tailored to your unique wants and needs. From start to finish, we handle everything for you so that you can focus on what you do best – caring for your patients!
Guaranteed Response Time:
We know how frustrating it can be to feel like you're being ghosted by potential employers. That's why we guarantee a response time of 30 minutes or less during business hours. You'll never feel like you're being left in the dark with MSG Staffing by your side!
Personalized Support:
Our expert team is dedicated to finding the perfect job and compensation for you, while keeping you informed and stress-free every step of the way. You'll receive weekly check-ins from a dedicated staffing expert, thorough assessments, interview coaching, and job offer negotiation support to ensure your success.
Shift for a Cause:
We believe that every nurse has the power to make a difference, which is why we're proud to offer our Shift for a Cause program. With every shift you work within this offer, you'll be providing clean water to those in need – making a lasting impact with every shift you work.
Additionally, we have bonuses and perks that will help you take your hiring to the next level. Really, this program is too good to say no to. It's free for you and you will get the support you've only ever dreamed about in the past. 
Limited Time Offer:
Our all-inclusive RN staffing offer is only open to the first 20 nurses who sign up, as it is that exclusive and demanding. So, don't miss out on this empowering opportunity to take your nursing career to the next level.At MSG Staffing, we're committed to revolutionizing the nursing industry and making a positive impact in the lives of nurses and patients alike. With our all-inclusive RN staffing offer, you'll wonder how you ever managed without us. So what are you waiting for? Sign up today and let us take your nursing career to new heights!
https://msgstaffing.com/all-inclusivernoffer/
Categories
Subscribe to Newsletter
You agree to receive email communication from us by submitting this form and understand that your contact information will be stored with us.